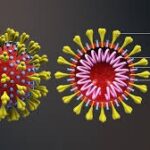 I'm seeing more Long Covid in the clinic.  As readers know, my interest for a long time is autonomic balance and its effects on health.  It appears that Long Covid has dysautonomia, or an imbalance of the autonomic system, as a hallmark.  Though I would prefer the less invasive therapies of acupuncture and Transcutaneous Vagal Nerve stimulation to stellate ganglion block, this study was well done and may give some hope to people!
Liu LD, Duricka DL. Stellate ganglion block reduces symptoms of Long COVID: A case series. J Neuroimmunol. 2022 Jan 15;362:577784. doi: 10.1016/j.jneuroim.2021.577784. Epub 2021 Dec 8. PMID: 34922127; PMCID: PMC8653406.
Abstract
After recovering from COVID-19, a significant proportion of symptomatic and asymptomatic individuals develop Long COVID. Fatigue, orthostatic intolerance, brain fog, anosmia, and ageusia/dysgeusia in Long COVID resemble "sickness behavior," the autonomic nervous system response to pro-inflammatory cytokines (Dantzer et al., 2008). Aberrant network adaptation to sympathetic/parasympathetic imbalance is expected to produce long-standing dysautonomia. Cervical sympathetic chain activity can be blocked with local anesthetic, allowing the regional autonomic nervous system to "reboot." In this case series, we successfully treated two Long COVID patients using stellate ganglion block, implicating dysautonomia in the pathophysiology of Long COVID and suggesting a novel treatment.
Keywords: Cerebral blood flow; Dysautonomia; Long COVID/PASC; Myalgic encephalitis/chronic fatigue syndrome (ME/CFS); Postural orthopedic tachycardia syndrome (POTS); Stellate ganglion block.