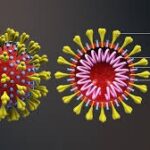 Both Iceland and San Francisco are seen as having had low Covid case rates and high vaccination rates.  But with the Delta variant, both places had a surge this summer in cases and hospitalizations. Iceland is 77% vaccinated, San Francisco 73%, the U.S. 53%.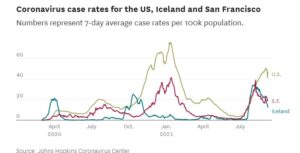 At the height of the surge in mid-August, the Washington Post reported that many infections in Iceland were occurring in vaccinated people, but most cases were very mild, and only 2% of all COVID cases involved hospitalization. Gandhi said the COVID-19 approach in Iceland was similar to that of San Francisco's…

Gandhi said both Iceland and San Francisco are "success stories for the vaccines," and both also restored mask mandates, "which is important during high rates of circulating virus."

"San Francisco did very well with the latest surge, including really strong messaging on the effectiveness of the vaccines" by the city's health officer, Dr. Grant Colfax, she said.