In this study, the researchers were measuring inflammatory marker levels as a function of the frequency of Transcutaneous Auricular Vagal Nerve Stimulation.  They found that 15HZ caused a marked reduction in LPS inflammatory response compared to 25 hz.  I will have to try this in the clinic! (Not on mice of course…)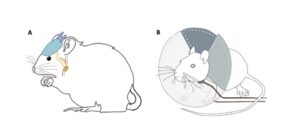 Go YY, Ju WM, Lee CM, Chae SW, Song JJ. Different Transcutaneous Auricular Vagus Nerve Stimulation Parameters Modulate the Anti-Inflammatory Effects on Lipopolysaccharide-Induced Acute Inflammation in Mice. Biomedicines. 2022 Jan 24;10(2):247. doi: 10.3390/biomedicines10020247. PMID: 35203459; PMCID: PMC8869637.
Vagus nerve stimulation (VNS) is considered a potential method for anti-inflammation due to the involvement of the VN in the cholinergic anti-inflammatory pathway (CAP) formation of a connection between the central nervous system and peripheral immune cells that help relieve inflammation. However, whether a non-invasive transcutaneous auricular VNS (taVNS) modulates the inflammation levels via altering the parameter of taVNS is poorly understood. This study aimed to determine the differential inhibitory effects of taVNS on lipopolysaccharide (LPS)-induced systemic inflammation using electrical stimulation parameters such as pulse frequency and time. The taVNS-promoted CAP activity significantly recovered LPS-induced tissue injuries (lung, spleen, and intestine) and decreased inflammatory cytokine levels and tissue-infiltrated immune cells. Interestingly, the anti-inflammatory capacity of taVNS with 15 Hz was much higher than that of taVNS with 25 Hz. When a cytokine array was used to investigate the changes of inflammation and immune response-related cytokines/chemokines expression in taVNS with 15 Hz or 25 Hz treatment in LPS-induced endotoxemia in mice, most of the expression of cytokines/chemokines associated with pro-inflammation was severely decreased in taVNS with 15 Hz compared to 25 Hz. This study demonstrated that the taVNS parameter could differentially modulate the inflammation levels of animals, suggesting the importance of taVNS parameter selection for use in feasible interventions for acute inflammation treatment.
Keywords: 
transcutaneous auricular vagus nerve stimulation (taVNS), anti-inflammation, cytokines, electrical stimulation parameters, coronavirus disease 2019 (COVID-19)