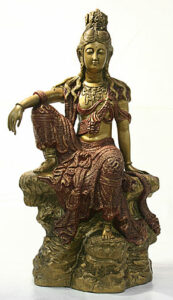 I have done some tVNS similar to that described here in the clinic.  The stress (HRV) results are consistent within a patient, but not across patients groups.  I'm not sure why, but I'm working on it.
Biol Psychiatry.
2016 Feb 15;79(4):266-73. doi: 10.1016/j.biopsych.2015.03.025. Epub 2015 Apr 2.
Fang J
1
,
Rong P
2
,
Hong Y
3
,
Fan Y
3
,
Liu J
3
,
Wang H
3
,
Zhang G
3
,
Chen X
4
,
Shi S
3
,
Wang L
5
,
Liu R
6
,
Hwang J
4
,
Li Z
7
,
Tao J
8
,
Wang Y
9
,
Zhu B
6
,
Kong J
Abstract
BACKGROUND:
Depression is the most common form of mental disorder in community and health care settings and current treatments are far from satisfactory. Vagus nerve stimulation (VNS) is a Food and Drug Administration approved somatic treatment for treatment-resistant depression. However, the involvement of surgery has limited VNS only to patients who have failed to respond to multiple treatment options. Transcutaneous VNS (tVNS) is a relatively new, noninvasive VNS method based on the rationale that there is afferent/efferent vagus nerve distribution on the surface of the ear. The safe and low-cost characteristics of tVNS have the potential to significantly expand the clinical application of VNS.
METHODS:
In this study, we investigated how tVNS can modulate the default mode network (DMN) functional connectivity (FC) in mild or moderate major depressive disorder (MDD) patients. Forty-nine MDD patients were recruited and received tVNS or sham tVNS (stVNS) treatments.
RESULTS:
Thirty-four patients completed the study and were included in data analysis. After 1 month of tVNS treatment, the 24-item Hamilton Depression Rating Scale score reduced significantly in the tVNS group as compared with the stVNS group. The FC between the DMN and anterior insula and parahippocampus decreased; the FC between the DMN and precuneus and orbital prefrontal cortex increased compared with stVNS. All these FC increases are also associated with 24-item Hamilton Depression Rating Scale reduction.
CONCLUSIONS:
tVNS can significantly modulate the DMN FC of MDD patients; our results provide insights to elucidate the brain mechanism of tVNS treatment for MDD patients.