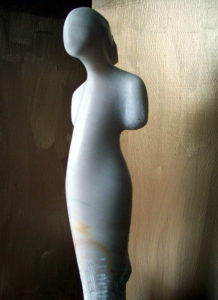 This is part of our submission (collaboration with B. Golianu from Stanford) for a special journal issue on treating sleep disorders in alternative medicine.  It may or may not get accepted, hard to know…
Treating Sleep Disorders in the Acupuncture Clinic:  Strategies and Physiology
"A good laugh and a long sleep are the best cures in the doctor's book." Irish proverb.  Even if not the chief complaint, disordered sleep is one of the most common problems confronting the acupuncture practitioner.  Improving sleep quality can help with pain, mood, immunity and even metabolic states .   Poor sleep can be a result of a relative excess of sympathetic tone in conditions such as tinnitus,   PCOS,  fibromyalgia   and menopause.   Acupuncture and acupressure may improve sleep quality by regulating autonomic balance as measured by heart rate variability (HRV).   A three pronged approach to sleep disorders in the acupuncture clinic follows.  1. Educate on basic sleep hygiene with recommendations for safe over-the-counter remedies which preserve "sleep architecture" for intractable insomnia (e.g. Melatonin).  2. Alleviate the presenting clinical condition (e.g. pain, IBS, asthma) with appropriate acupuncture needling.  3. Employ specific acupuncture techniques and acupoints documented to regulate the autonomic nervous system, such as PC6,   Ht7, St36, sishencong,  and yin tang.   In two recent relevant clinical cases involving tinnitus and PCOS, symptoms diminished and sleep improved.  Case 1: 47 y.o.male with tinnitus received acupuncture weekly over a four month period including points PC6 and H7. Treatment resulted in improved sleep quality and decreased tinnitus intensity. HRV analysis revealed Low Frequency/High Frequency (LF/HF) decrease over the course of treatment from 3.29 to 1.3.  Case 2:  32 y.o. PCOS patient exhibited improved sleep, mood and regularity of her menstrual cycles after 3 months of weekly acupuncture including points St36 and Ht7.  HRV analysis showed a decrease in her LF/HF ratio from .44 to .22 over treatment course. Acupuncture therapy has far-reaching effects not only on specific clinical problems, but because of its autonomic effects may allow for better sleep. HRV analysis may help to elucidate some of the physiologic mechanisms underlying these benefits.