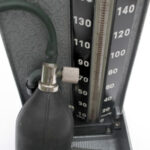 A brief primer on leptins.  (I pulled this article because of the connection to HRV.  I don't think I can make any sort of informed connection to acupuncture and weight loss.)
To date, only leptin and insulin are known to act as adiposity signals[51] that signify the amount of body fat. In general,
Leptin circulates at levels directly proportional to body fat.
It enters the central nervous system in proportion to its plasma concentration.
Its receptors are found in brain neurons involved in regulating energy intake and expenditure.
It controls food intake and energy expenditure by acting on receptors in the mediobasal hypothalamus.[52]
J Hypertens. 2014 Feb 5.
Autonomic activity and leptin in Africans and whites: the SABPA study.
Pieterse C, Schutte R, Schutte AE.
Abstract
OBJECTIVES::
Evidence exists that leptin enhances sympathetic activity and may thereby contribute to the development of obesity-related hypertension. Sympathetic activation also seems more prominent in Africans than whites. We compared leptin levels, and different markers of autonomic activity between Africans and whites, and determined whether a relationship exists between leptin and autonomic activity.
METHODS::
The study included 409 African and white school teachers (aged, 44.6 ± 9.6 years). We determined leptin in serum and measured ambulatory blood pressure. Markers reflecting autonomic activity included renin, cortisol, baroreflex sensitivity, ambulatory heart rate and heart rate variability (HRV) components (assessed by 24-h ECG recordings in the frequency and geometric domain).
RESULTS::
Africans had higher leptin levels, BMI, blood pressure and heart rate (all P < 0.001) as well as lower HRV triangular index and HRV total power (P < 0.001). After also adjusting for BMI in multivariate regression analyses, in African men, renin (β = 0.228; P = 0.033), night-time heart rate (β = 0.184; P = 0.034), HRV triangular index (β = -0.230; P = 0.010) and HRV total power (β = -0.214; P = 0.046) associated with leptin. In white men, leptin associated with 24-h heart rate (β = 0.376; P < 0.001), as well as day and night-time heart rate (both P < 0.01), HRV triangular index (β = -0.335; P < 0.001) and HRV total power (β = -0.403; P < 0.001). In African women, we observed an association of leptin with the total power component of HRV (β = -0.214; P = 0.046) and a borderline association with renin (β = 0.219; P = 0.057). No significant associations were apparent in the white women.
CONCLUSION::
We found that leptin is independently associated with different markers of autonomic activity, especially in men.