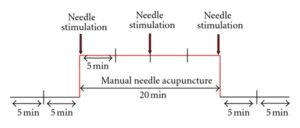 Another article by Litscher doing the HRV analysis on heart rate data gathered in China.  Again, the article is available for free online here.  This study looks at two patients, each 27 years of age.  One had a cervical neck problem and one tachycardia.  They don't mention if the tachycardia was the chief complaint, nor do they mention how the patients fared clinically after their acupuncture.  I guess since it was only one session there wouldn't really be any point?  They compare Poincare plots of the two patients, but I'm not sure if that's what they used as an HRV measure during the treatment.  Their conclusion was that HRV increased and HR decreased.  In their studies they use a 40 minute time span, figure here. Maybe I should really consider using their procedure schedule.
Evid Based Complement Alternat Med. 2012;2012:153480.
Sino-European Transcontinental Basic and Clinical High-Tech Acupuncture Studies-Part 4: "Fire of Life" Analysis of Heart Rate Variability during Acupuncture in Clinical Studies.
Litscher G, Wang LP, Wang L, Liu CZ, Wang XM.
Abstract
This fourth part of a series of Sino-European high-tech acupuncture studies describes the first clinical transcontinental teleacupuncture measurements in two patients (cervical spine syndrome and tachycardia; both 27 years old) from the Beijing Hospital of Traditional Chinese Medicine affiliated to Capital Medical University, China. The electrocardiographic data were transferred to the Stronach Research Unit for Complementary and Integrative Laser Medicine and the TCM Research Center in Graz via conventional internet connections. Data analysis was performed in Graz using a new "Fire of Life" heart rate variability analysis. Analysis was performed without any technical problems in both subjects. Heart rate decreased significantly during acupuncture in the two patients from Beijing. At the same time, total HRV increased during acupuncture. The different influences of HRV (respiratory sinus arrhythmia, blood pressure waves, etc.) could be clearly documented using the new "Fire of Life" analysis.