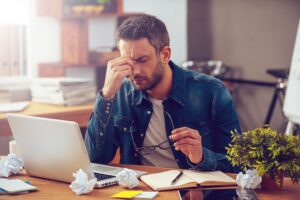 In this review of the literature, acupuncture was found to be helpful and superior to sham acupuncture or controls.  This information is particularly welcome –>
"melatonin, vitamin D, higher dosages of vitamin B6 (80 mg)/folic acid 5 mg combinations, and the combination of magnesium 112.5 mg/CoQ10 100 mg/feverfew 100 mg"
Complementary and Integrative Medicine for Episodic
Migraine

: an Update of Evidence from the Last 3 Years.
Abstract
PURPOSE OF REVIEW:The purpose of this review is to evaluate evidence from the last 3 years on complementary and integrative medicine treatment options for episodic
migraine
. Using Pubmed, Embase, and Cochrane databases, research published from 2015-2018 evaluating the modalities of mind/body therapies, supplements, and manual therapies for treatment of
migraine
were assessed.
RECENT FINDINGS:
Although many studies had major methodological challenges that limit interpretation, several studies reported decreased headache frequency, improved quality of life, or less affective responses to pain. The evidence is currently most promising for the mind/body treatment options of mindfulness, yoga, and tai chi. Mindfulness meditation may be as effective as pharmacological treatment for medication-overuse headache after the offending medication is withdrawn. While older research has shown magnesium, riboflavin, feverfew, and butterbur to be helpful in migraine treatment, new research is promising to suggest potential benefit with melatonin, vitamin D, higher dosages of vitamin B6 (80 mg)/folic acid 5 mg combinations, and the combination of magnesium 112.5 mg/CoQ10 100 mg/feverfew 100 mg. Omega 3s have limited evidence of efficacy in migraine. Butterbur needs to be free of pyrrolizidine alkaloids (PA) to ensure safety given their hepatotoxicity. Physical therapy (PT) continues to have strong evidence of support, and acupuncture is superior to sham acupuncture and placebo. Side effects and risks reported were minimal and well tolerated overall, with the exception of the life-threatening risk of cervical artery dissection with high-velocity chiropractic manipulation and hepatotoxicity with the PAs in butterbur. Several studies are ongoing to further evaluate mindfulness, melatonin, PT, exercise, chiropractic manipulation, and acupuncture. The American Academy of Neurology (AAN) and American Headache Society (AHS) are currently updating the guidelines for integrative treatment options for migraine, so additional recommendations may be available soon. In conclusion, many complementary and integrative treatment options may be helpful for patients with migraines, and understanding potential efficacy, benefits, and risks can help providers discuss these modalities with their patients. Such a conversation can empower patients, build the therapeutic relationship, and increase self-efficacy, thus improving outcomes and patient-centered care.