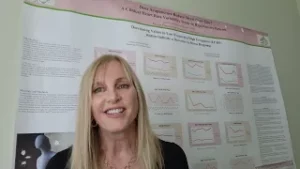 Full article here
I've talked about this on the blog here.  Wow that was over 10 years ago!
Roughly 35 percent of women of reproductive age in the United States don't have sufficient amounts of iron in their bodies. And yet the nutritional deficiency, which can affect multiple functions, from immunity to cognition, often goes undiagnosed, said Dr. Malcolm Munro, professor of obstetrics and gynecology at the David Geffen School of Medicine at the University of California, Los Angeles. This oversight is partly because symptoms can be difficult to pin down but also because iron deficiency is rarely recognized as an urgent condition with short- and long-term consequences, he said.
Despite persistent calls from experts and researchers, there are no recommendations in the U.S. to regularly screen for iron deficiency among adult women and it is therefore rarely a part of blood work in annual checkups. There are recommendations only for screening pregnant and nonpregnant women for anemia, a condition that can develop when iron deficiency is left untreated.
Mei, Z., Addo, O. Y., Jefferds, M. E., Sharma, A. J., Flores-Ayala, R. C., & Brittenham, G. M. (2021). Physiologically based serum ferritin thresholds for iron deficiency in children and non-pregnant women: A US National Health and Nutrition Examination Surveys (NHANES) serial cross-sectional study. The Lancet Haematology, 8(8), e572-e582. https://doi.org/10.1016/S2352-3026(21)00168-X